ROSSO FAMILY
Michele ROSSO (43) and Anna Arnaudo (30) , with their children Michele (8 months) ,Giovanni (11) , Maria (9) y Catterina (7) arrived to Buenos Aires on December 8 , 1887. Left Italy onboard the ship "CANTON".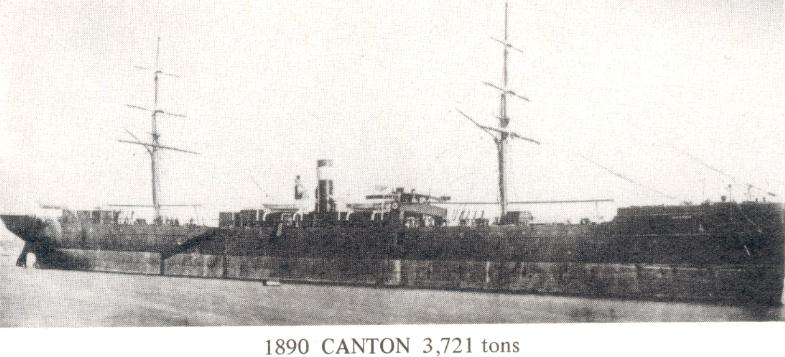 Built in 1882 for Companie Nationale de Navigation.
3721 tons gross, 115.69m long x 12.19m wide (379.6ft x 40.0ft), straight bow, single funnel, two masts, hull of iron construction, single propeller, 2 compound engines giving a speed of 11 knots.
She was built by Forges & Chantiers de la Mediterranee, La Seyne, France and was launched in Jun 1882.
She had accommodation for 24 1st class,24 second class and 1600 steerage passengers.
Oct 1882 maiden voyage Marseilles - French Indo-China
Nov 1887 first voyage Marseilles - Genoa - Buenos Aires
5 Oct 1890 first voyage Marseilles - Denia - Malaga - New York (one return voyage)
1898 renamed Pierre le Grand, when sold to another French company.
Refurbished and equipped with a wider funnel.
17 Dec 1899 whilst sailing from Pera to Marseilles she went missing with the loss of 45 lives.

GIACCONE FAMILY
Pietro GIACCONE (32) and Lucía Giuliano (22), with their children Maddalena (3) and Anna (1) left Genoa port onboard of the ship "COLOMBO". Anna died while sailing to Argentina and the funeral is carried out during the journey. Arrived to Buenos Aires on Octubre 24th, 1882.
ESPRESSO / COLOMBO / NAPOLI 1870

1,865 gross tons, length 91.09m x beam 10.82m (298.9ft x 35.5ft), one funnel, four masts, iron hull, single screw, speed 11 knots, accommodation for 34-1st and 900-3rd class passengers.
Launched on 27th Sep.1870 by Wigham Richardson & Co, Walker-on-Tyne as the "ESPRESSO" for Captain Lavarello. Genoa.
Her maiden voyage started 23rd Feb.1871 when she left Genoa for Marseilles, Cadiz, Tenerife (for bunkers), Montevideo and Buenos Aires. She completed the voyage to Montevideo in 30 days. In 1871, the company became G. B. Lavarello & Co.
By 1874, with the advent of faster ships, the name ESPRESSO was no longer appropriate and she was renamed COLOMBO (after Cristopher Columbus). In 1883 the firm of Lavarello went into liquidation and the COLOMBO was taken over by M. Bruzzo & Co and continued sailings from Genoa to South America. Matteo Bruzzo went into partnership in 1884 to form La Veloce Line and the COLOMBO was rebuilt and renamed NAPOLI. On 5th Dec.1893 she was abandoned and sank off the coast of Brazil. [South Atlantic Seaway by N.R.P.Bonsor]


On the next link , some pictures from the port of GENOVA at the end of 1800' . Probably the last memorie of Italy from our ancestors.........